Published Friday, July 9, 2010.
Ah, what a strange creature I am. I should have figured out something was wrong with me the day I stopped reading architecture magazines and started to buy
The Economist
. Go figure.
As it happens, they've decided to take a look at the current state of the blogosphere –
The Evolving Blogosphere: An Empire Gives Away
(spotted via
Kottke
). Well, then, the question for today is: has Facebook and Twitter broken the blogs' monopoly?
The Economist makes the common mistake of mixing both. Twitter probably stands on its own as a short message web-based service. It successfully blends personal thoughts with special-interest news sharing. It has a simple and intuitive interface, it's blog-friendly and integrates all sorts of external applications with remarkable versatility. It's a sure winner.
Facebook and its siblings are completely different products. They've assimilated the blog dynamic and gave the user the possibility to engage in a personal network. Blogs have a slow growth rate and the blogosphere can seem like a lonely place sometimes. But blogs actually operate as networks, they intersect, they allow the user to control its connections and information feeds. The social networking world is an opaque digital landscape; it forces you to move within its own system. So Facebook may be good for immediate conversations, offering instant gratification within your group of
friends
and a misleading sense of feedback. Blogs, however, stand as a forum for individual publishing and personal expression.
These monsters of social networking probably stand as the greatest threat the blogosphere has ever seen. The reasons for that, as The Economist fails to apprehend, is not in the numbers alone. It's not just the fact that blogs may be loosing their share number of online readers but that social networking is establishing a very different kind of web culture. Blogs started and remain, to a great extent, independent endeavours. They are public domain. Social networks, on the other hand, have seized the blog format and turned it into a corporate culture product. They are private domain.
Published Wednesday, July 7, 2010.
Political science states the difference between rationalism and incrementalism. A rationalist approach aspires to create an ideal system, identifying the factors, elements or activities that are essential to its foundation and providing the necessary resources to put them into practice. The latter approach, of incremental nature, is based on a contrasting set of principles. It is founded in the belief that a perfect system is impossible to establish. To create a system from what already exists consequently becomes the challenge, starting from the available knowledge and means and, from these, gradually introduce the necessary changes in order to achieve the best possible outcome. In conclusion, one could say that these approaches reflect the difficulty in reconciling the ideal with the real.
Both approaches have benefits and disadvantages. A rationalist model can eliminate barriers and promote radical transformations, achieving greater impact and visibility. It is more likely, however, to disregard existing assets and know-how by virtue of impositive measures. On the other hand, an incremental philosophy may benefit communication and participation, suggesting a bottom-up model of governance, but it is also more permeable to popular views that are not always conducive to effective solutions. The incremental approach is more vulnerable to demagoguery.

Our academic culture promotes theoretical, rational methodologies, in detriment of a more grounded, preconditioned, form of thinking. It is easier to envision a theoretical model based on analysis and synthesis of a controlled set of variables than to elaborate from the complex reality that comprehends innumerous factors and a broad range of uncertainty. One of the problems we face, then, is a tendency to generate simplified models of thinking.
As architects, Modernism is still a big part of our intellectual heritage. In no other time in history was the notion of rationalism engaged so deeply. As a movement, Modernism was an attempt to face urgent problems within new urban realities. It was a world pressured by industrialization, primary issues of urban health, housing needs, the introduction of the automobile. The depression and the war dictated systematization and economic restraint, which reflected deeply in the principles and work of architects such as Gropius, Breuer, Mies, Aalto, men that would personify the theoretical core of the international style. But Modernism as an ideology was firmly grounded on a world dominated by the ideals of a powerful, leading State, in the realms of politics and economics.

We are very distant from the world these men lived and believed in. The political centers of government are no longer the most influent forces of society. In the face of an unparalleled post-global economic austerity, the institutions of central government are likely to lose further influence and authority. This is not unrelated to the way architecture is evolving, not only in its aesthetic dimension but as a force of social transformation.
As the architectural landscape of our times is being shaped by the media-driven corporate world, few real movements have been able of pushing forward a new paradigm of architectural production. Although new web-based communication structures and an open-source mentality have been feeding remarkable possibilities (the most noticeable of which is the example of Architecture for Humanity) such manifestations remain overlooked as a source of investigation by both academies and published opinion. These incremental architectural manifestations are disregarded as marginalized forms of practice, perceived by the critics as lacking influence within the sphere of architectural discourse. Undoubtedly, the Cameron Sinclair crew isn't trying to appease the critics taste for aesthetic radicalism and intellectual edge. What they are doing is promoting ground-breaking global conversations that acknowledge the importance of small, cheap and impactful design processes. And they are actually trying to build stuff on communities that lack means and resources most of us would take for granted. So maybe it's time for us to start questioning what being influent is all about. Do we aim to establish our names as brands and feature in magazine covers, or have a deeper impact in peoples lives instead. It's a matter of choosing which role we, architects, choose to play in the future of our discipline and in the society we live in.
Published Friday, July 2, 2010.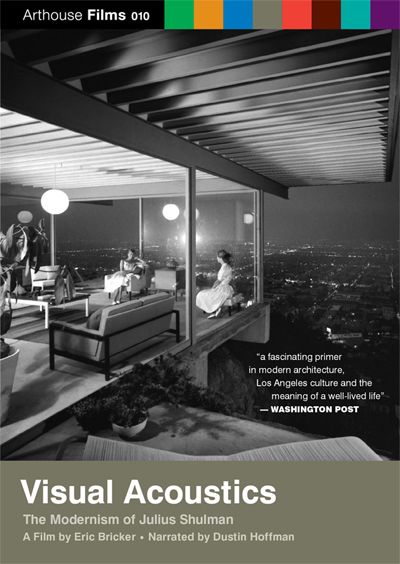 Visual Acoustics: The Modernism of Julius Shulman is a documentary film by Eric Bricker, now available on DVD (US release).
Architectural photography is often questioned on ethical terms regarding the conflict between the objective documentation of the built environment and the creative endeavour of the photographer. There is an underlying misconception at work that resonates with the idea that photographs are
taken instead of made
, a notion that implies the sense that the images themselves are already there. This false impression disregards the fact that the task of the photographer extends far beyond the mere capture of the real; the very translation of the physical world into the realm of photography requires a complex thread of choices considering multiple factors such as composition, lighting and exposure.
In a world dominated by digital culture and the widespread use of composite technology, the work of Julius Shulman remains a tribute to the creative and visionary dimension of photography as art. His visual records of modern architecture and urban L.A. are a negation of neutrality, presenting both an ostentatious glamour and style as well as a personal sense of mise-en-scène. These calculated images, often introducing characters and implicit narratives, revealed an author actively committed to the pursuit of a modernist iconography.
Visual Acoustics: The Modernism of Julius Shulman
is a fascinating portrayal of the life and work of this self-taught master, revealing the memories and techniques behind his vision. The documentary revisits many of the houses photographed by Shulman in the past, capturing not only the buildings but the historical and sociological atmosphere that surrounded them. Trailer and additional details after the jump.
Click to expand. [+/-]