Landscape of audacity
Published Wednesday, May 19, 2010.
---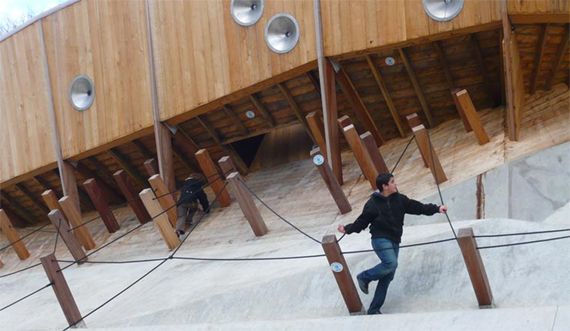 Belleville Park Playground, Paris. Image credits: BASE.
I remember seeing some images of this project over a year ago, most likely right here on the internet, but I missed to save any reference to it and was unable to find it afterwards, to my utter disappointment. Fortunately it's been receiving renewed attention lately, most noticeably on landscape blogs such as
Pruned
, and I couldn't resist making a mention to it as well.
The
playground of the Belleville Park in Paris
, designed by French based landscape studio
BASE
, presents an imaginative approach to the concept of recreational area. The «playhouse», as it is called by the authors, is developed over a high-pitched slope; a place we could find unusual for such public facility. It brings forth the notion of spontaneous structure, a place of adventure that resonates with the children's capacity for imagination and experimentation as they interact with the built environment. The playground retains a sense of abstraction that allows for interpretation and discovery, mixing different structures and materials to create a free-flowing and powerful landscape.
In the face of such admirable approach, one has to wonder if the design of children's playgrounds isn't often confined by intricate regulatory requirements that limit imagination and innovation. For that reason, one has to praise the local authorities for carrying the audacity that nurtured this remarkable project. More images to see after the jump.
Click to expand. [+/-]