CEBRA_toons: telling the story without words
Published Thursday, April 15, 2010.
---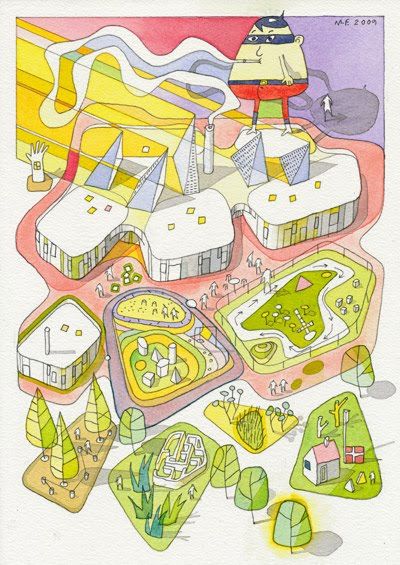 CEBRA
is a Danish architectural firm founded in 2001 by the architects Mikkel Frost, Carsten Primdahl and Kolja Nielsen. Some of their projects were recently featured on
ArchDaily
, the latest of which is the
winning proposal for a Design Kindergarten
, a daycare center structured around a series of building modules dedicated to different artistic activities. The project is presented through a sequence of concept drawings that break down the design process and effectively communicate the guidelines and priorities that served as reference for the final architectural solution.
Besides having a rich and interesting website, CEBRA also shares a gallery of watercolor drawings on their sub-blog
CEBRA_toons
. It's a gallery of cartoonish renders that sum up a selection of projects they've made so far, each presented in a single A4 sheet. What's interesting about these drawings is not only their artistic quality but also the ability to combine all the ideas that sustained their architectural vision in a single image. I leave you with some examples but make sure to visit CEBRA_toons to see the entire collection.
Click to expand. [+/-]