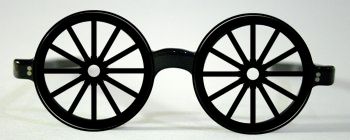 The project is looking great. Now, will you please put a cartwheel in it?
What concessions are we willing to make in our profession. Where do we draw the line of that which we won't do? And what reasons sustain those boundaries we set for ourselves?
In the course of our professional lives we seem destined to face the dilemma of yielding from that which we know is right. The author of
Life of an Architect
highlights this problem on his list of
reasons not to become an architect
.
Your ideals don't really matter
Your clients hire you to give them a product that they want, not necessarily what you want. We basically go to school to learn how to learn – architecture isn't a trade. As a result, you should be equipped to design projects that aren't in the style of architecture that you would like to do for yourself. Most projects are developed for profit and despite the fact that good design equals good solutions which translates into a form of measured success, everybody wants more for less. There will be times when you are told to do something that you know is terrible and the absolute wrong thing to do. Based on your need for the work, or the force of your personality, you will make concessions that will make you want to die.

If your ideals are important to you, you will lose work
Because architects are opinionated, they will argue for points that the client has clearly stated that they do not want. You are probably thinking that a clearly stated result, while demonstrating the error in the alternative, will win out. It doesn't always work that way. (…)
When I was studying to become an architect I attended a presentation by a team of young architects. They had graduated a few years back and had started their own little firm. To the eyes of young students like me they were living the dream, fighting to succeed in the real world of architectural practice.
They showed us a few samples of their work, a series of respectable contemporary designs. And then they talked about this particular project they had done for a restaurant. The work was about to be completed, the client was happy, all seemed to be going well. And then the client came up with a final request. He wanted the architects to introduce a new feature to the design: a big old wagon cartwheel to be displayed in grand view at the entrance of the restaurant.
The thing became the matter of great discussion. Designer team and client got to extremes and it all turned sour. Acknowledge the cartwheel or loose the commission, simple as that. The team remained firm in its belief, and so it was. The job was lost.
We're all destined to find our cartwheels along the course of our lives. When such a metaphor takes the form of a literal cartwheel, the epitome of iconic rusticity, I suppose things may take a fast turn towards the dramatic. We all have to draw a line somewhere and a cartwheel sure seems like a good place to do it. And still, even though I acknowledge the bravery of our fellow colleagues, I've often thought about this little episode.
We don't sell architecture. We provide a service, which implies a contractual relationship with the client. A contract, as we know, is a mutual acceptance of terms under which a process is developed. When those conditions are no longer acceptable, the foundation that sustained that relationship is no longer sustainable.
The restaurant episode is just an example of that, but the knife of incompatibility has two edges. Not always do conflicts arise from client impositions – often what happens is just the opposite: the architect will argument in favor of solutions the client finds objectionable. When that occurs, we better have good reasons to defend, objectively, what we stand for. Otherwise, our formal conjectures are just as detrimental as the irrational desires of the client – something we can't support under the façade of subjective, unquestionable, conceptual intentions.
I recall a teacher of architecture who, as far as I know, designed two projects in his career. Both were canceled for «incompatibilities with the client». I'm sure he will die a hero without ever getting his boots in the mud. But, if you want to know my opinion, I think life is more interesting when we stand in the face of all those crazy cartwheels running around.