Here's looking @you kid
Published Thursday, December 11, 2008.
---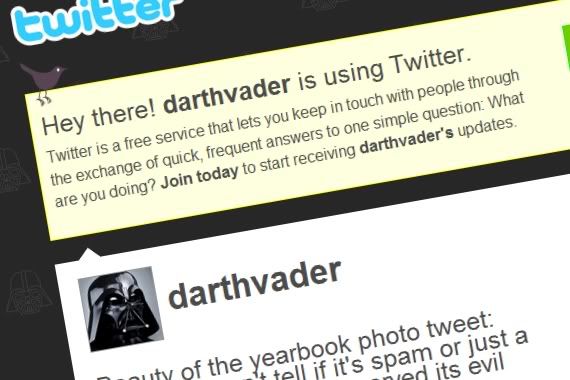 So everybody's on
Twitter
these days, and I do mean everybody! From
Darth Vader
to
Frank Lloyd Wright
, that's where the action's happening. Let's face it, Mr. Lloyd is even using
Tweetie
, meaning he's carrying an iPhone. That's just beyond postmodern…
Well,
I've been experimenting Twitter
these days with seriously mixed feelings. This micro-blogging stuff had me puzzled for a while, but as it turns out it seems pretty clever. Twitter has a 140 character limit for every post, meaning it's all about sharp shooting. No elaborations, just punch lines. Seems pretty straightforward but it gets a bit tricky when you start wondering what you plan to do with it [
10 Twitter Agendas – What's yours?
]. Now some people [
Twitter is going to die
] say it's best if you stick with your friends, others [
Using Twitter… 'The Smart Way'
] say you should strategize for world domination. Don't know about that. I'll think I'll try getting a Tupperware Party started while I get my bearings…