JVA: Dønning Community Building / architecture of an anti-icon
Published Thursday, September 25, 2008.
---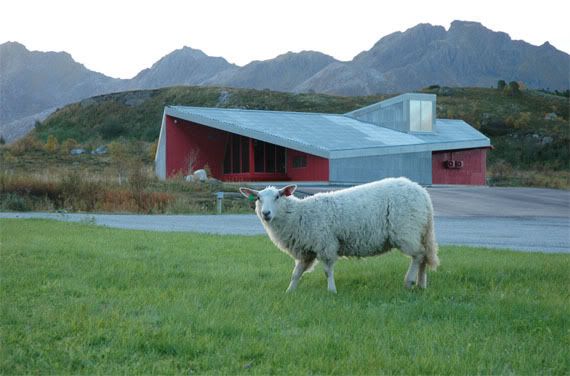 One of the most significant distinctions one can make in architecture today is probably not regarding dimension but economy. More precisely regarding cost-effectiveness concerns – or how architects approach the issue of adequacy between the means and the ends of architectural design.
I find this matter extremely relevant not only because we're not all designing for Dubai but as this sense of adequacy is at the core of what should be a sustainable practice. The ethics of sustainability rely precisely on fighting superfluous "obesities". Design – even more so in architectural design – is all about adequacy, about effectiveness, about finding the essential relationship between the present conditions and that which needs to be introduced as new. This should not be seen as an obstacle to innovation; in fact it's very much the opposite. In a world without budget restrictions anyone can exert sensational icons, works of art that are not necessarily innovative works of architecture. The opposite, however, is possible. To do more with less. To overcome a constricted budget through exceptional design and generate objects of true singularity.
These thoughts come to mind as I reflect on the beautiful Dønning Community Building, a civic facility designed by
Einar Jarmund and Hâkon Vigsnæs
.
This team of Norway-based architects has been receiving growing attention lately, mostly for their outstanding housing projects. But this one I find particularly moving as it almost resonates with Kuma's theory of "weak buildings". The Dønning facility is probably one of their less sophisticated projects, a distinctive creation of raw materiality. This youth club proposed for a local community organization is a brilliant example of how architecture can rise above enveloping limitations. Structural design is simple and cost effective: almost a warehouse of slightly convoluted forms. The openings are few but prominent, providing both an energy efficient solution and a deliberate use of natural light. The external skin is made of corrugated fiber cement boards; another low budget option to which the use of contrasting colors – natural grey and red – provide dramatic visual effect.
In its simplicity and tension of form, the Dønning Community Building stands as a singular statement, a bare gesture of unadorned humanity in the midst of a wide, sensational landscape.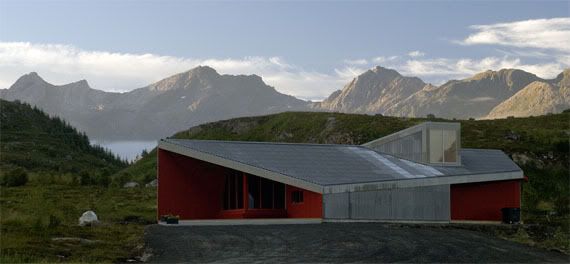 Note: the Dønning Community Building was recently published on Arch Daily where you can find many images and, better yet, a full set of technical drawings. It is also featured on a+t Civilities II magazine.
Architecture: Jarmund/Vigsnæs AS Architects MNAL.
Photography: Jarmund/Vigsnæs AS, John Stenersen.
External references: a+t Civilities II, Arch Daily.